After all the pizza and breadsticks the night prior, we slept very well at the Vík campground. We had to park close to the road where the non-electrical hookup vans parked, and we had a lot of road noise and lights throughout the night. Our van's curtains helped shield the light, but we could still hear vehicles passing. We also had to walk forever to get to the bathrooms (really annoying in the middle of the night). Despite everything, we slept well and did not have pizza nightmares. In fact, we slept soundly most nights in the camper van.
We woke up somewhere between 9 a.m. and 10 a.m. as we did most mornings. lying there with the light glowing through the curtains, we laughed as we recalled our unpleasant experience with the Witch of Vík. The whole scene was ridiculous! Then we looked at each other and decided that we just wanted to go! We hurried around, threw on our clothes for the day, packed away the bed, and drove to the bathrooms on our way out. We were just DONE with the place.
We pulled out of the campground, crossed the street, and purchased Starbucks coffee drinks at the N1. They even had an unsweetened caffe latte. I honestly don't know why we hadn't considered the convenience of canned coffee beverages.
Vatnajökull
Everything for our day's itinerary focused on Vatnajökull, the largest glacier in Europe. We scheduled a glacier hike with Arctic Adventures for the afternoon. Our hiking tour would depart from Skaftafell Nature Preserve at the foot of Vatnajökull, so we decided to drive to Skaftafell and check out the scene.
As we drove from Vík, we started seeing white-capped mountains in the far distance. We drove and drove and drove, and for a while, it felt like it didn't get closer. The glacier is just that big! Then we started getting close enough to see detail.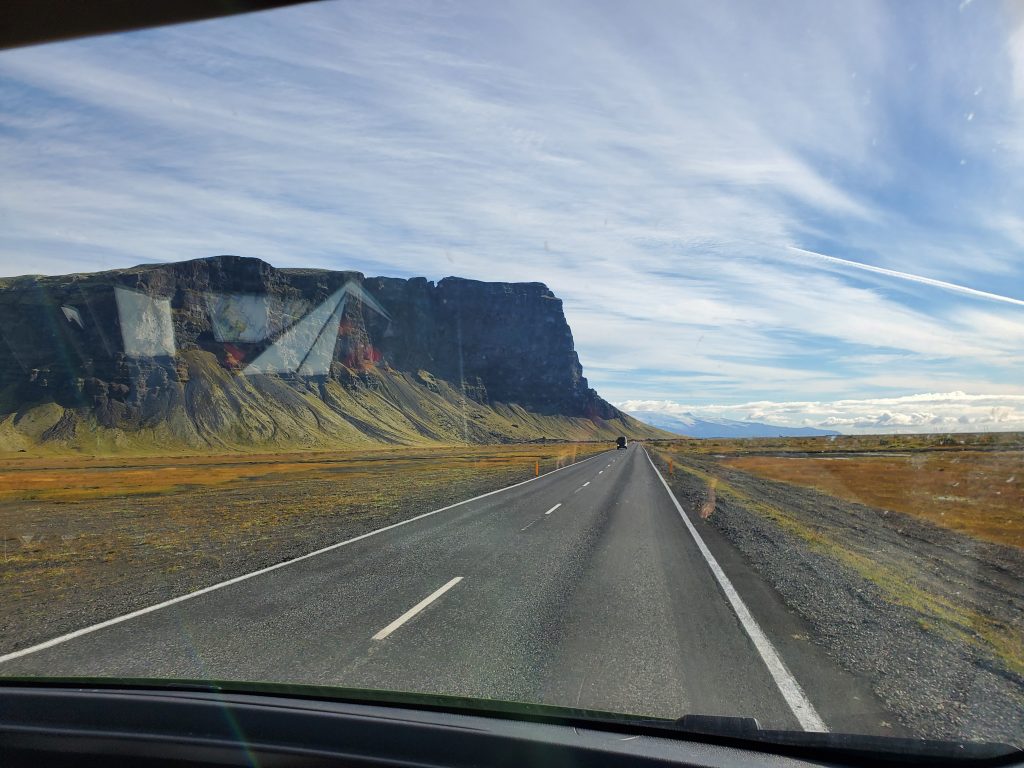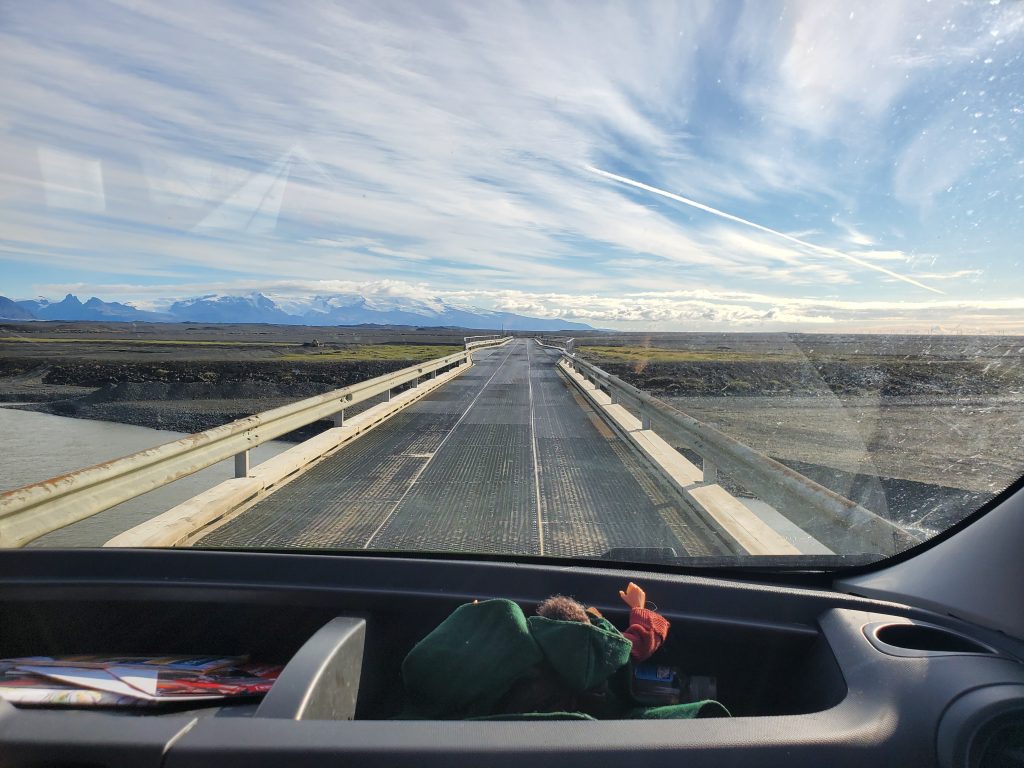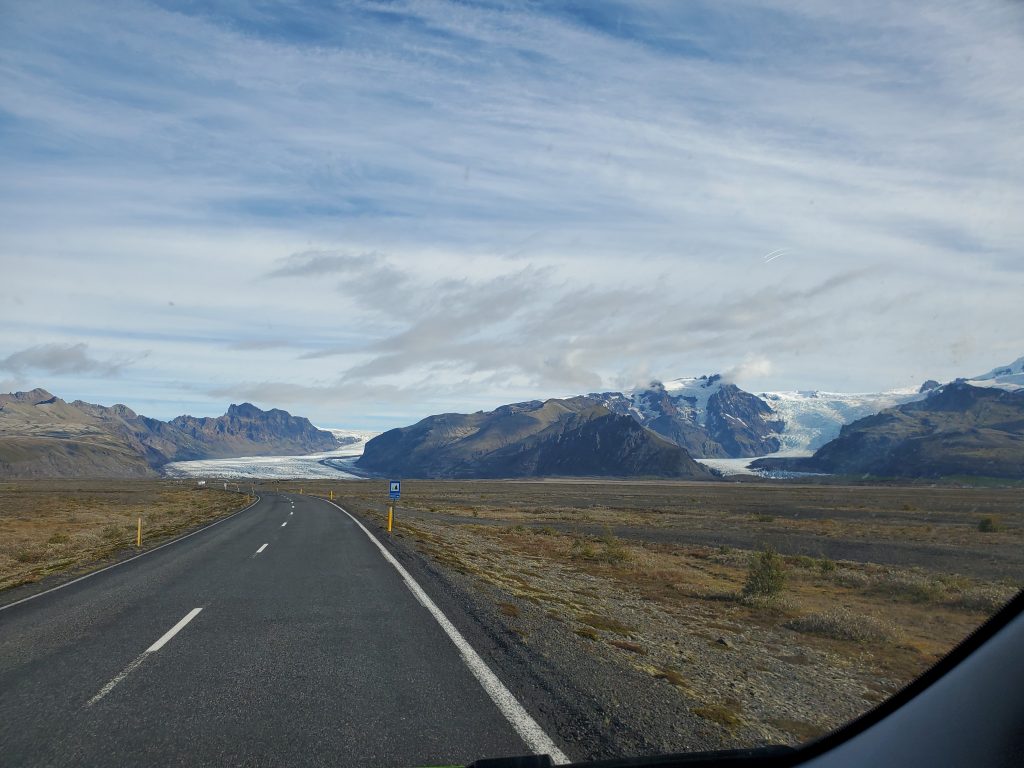 Skaftafell
We reached Skaftafell and got our bearings. There is a campsite at Skaftafell, and we initially thought we'd stay there overnight, but we wanted to leave our options open.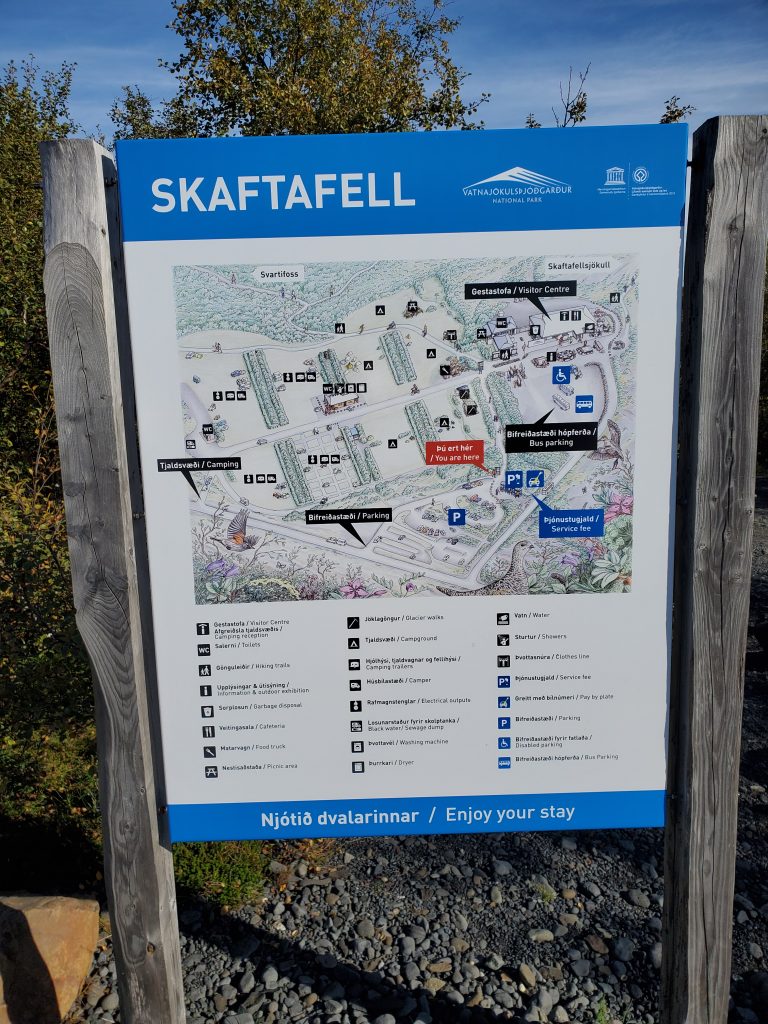 Outside of the visitor's center, we looked at maps of the glacier and read facts about glaciers. We lucked into another sunny day, and it was warm by Icelandic standards.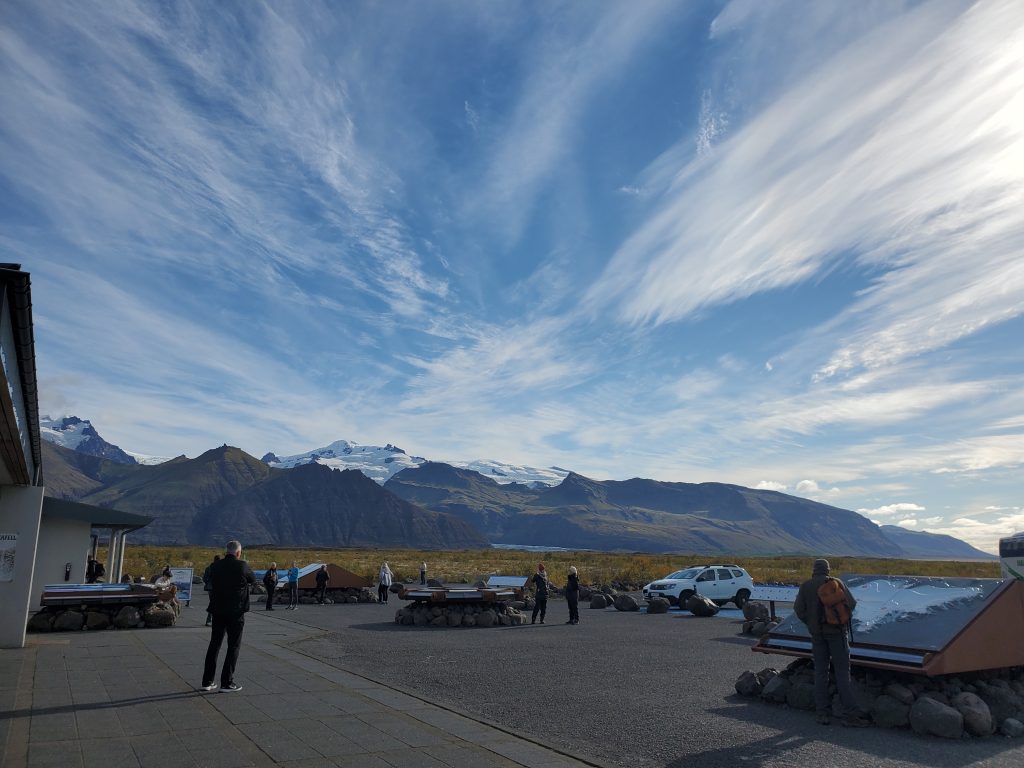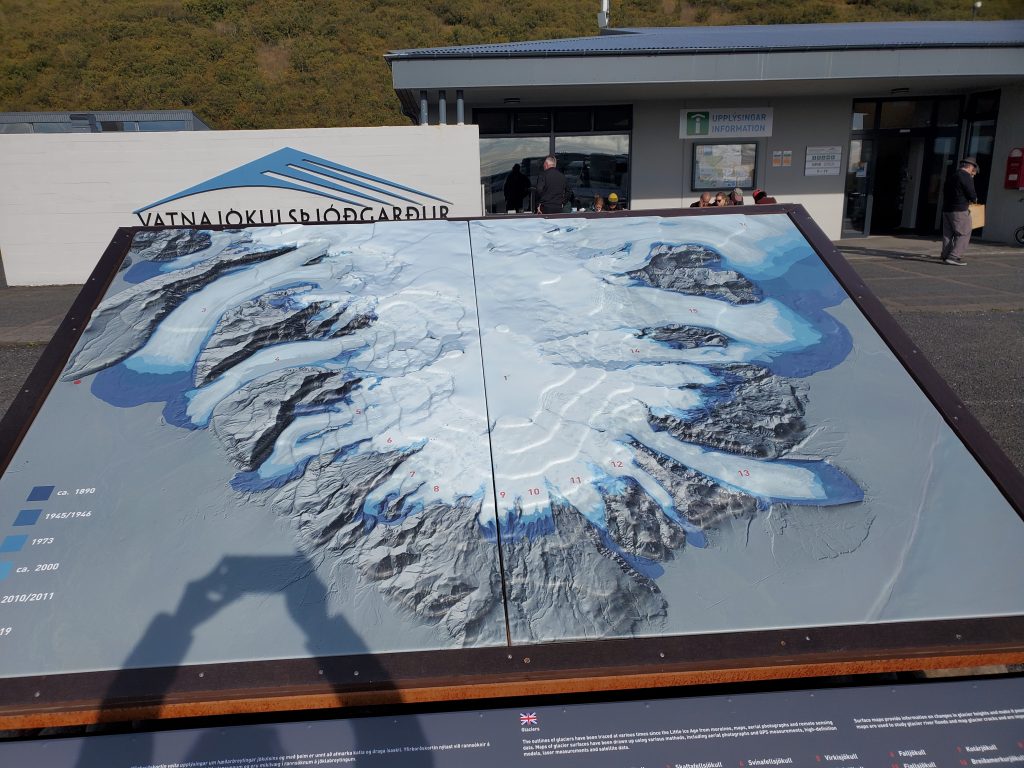 After checking out the scene, we returned to our camper van for lunch. With our van door open to enjoy the fresh air and sunlight, we ate egg salad and spicy tuna salad sandwiches and snacked on chips. Our camper van's cooler (refrigerator) kept everything at a safe temperature throughout our trip.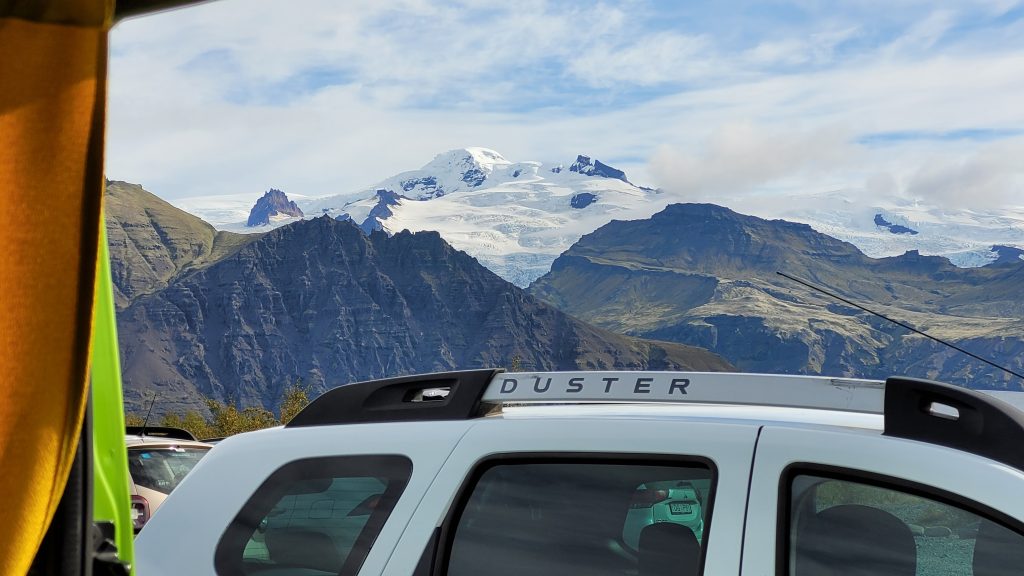 Glacier Hiking
After lunch, we decided on what layers to wear, stopped by the visitor's center bathrooms, and headed over to the Arctic Adventures meeting point. Several people from all over the world gathered around the building. The largest group were from the Canary Islands, and one of their members provided Spanish translation for others who did not speak English.
Staff members checked our footwear to make sure we had enough ankle support. People whose shoes did not pass the test could rent hiking boots. Fortunately, our hiking boots passed the test! We'd had the same pairs of hiking boots for at least half of a decade, but we really put them through their paces on this trip, and at every turn, we were grateful for their comfort and features.
Once our shoes went through review, we lined up to get fitted for crampons. Groups of eight or so sat on benches in the building where Artic Adventures employees measured our boots and selected appropriate crampons. The crampons are adjustable (like old-school rollerskates that clamped on shoes), and the fitters locked down the right sizing before handing them off. We carried the crampons until they were needed.
After we got our crampons, the staff supplied us with the rest of our gear, including climbing harnesses, helmets, and ice axes. We were both so excited and ready for adventure!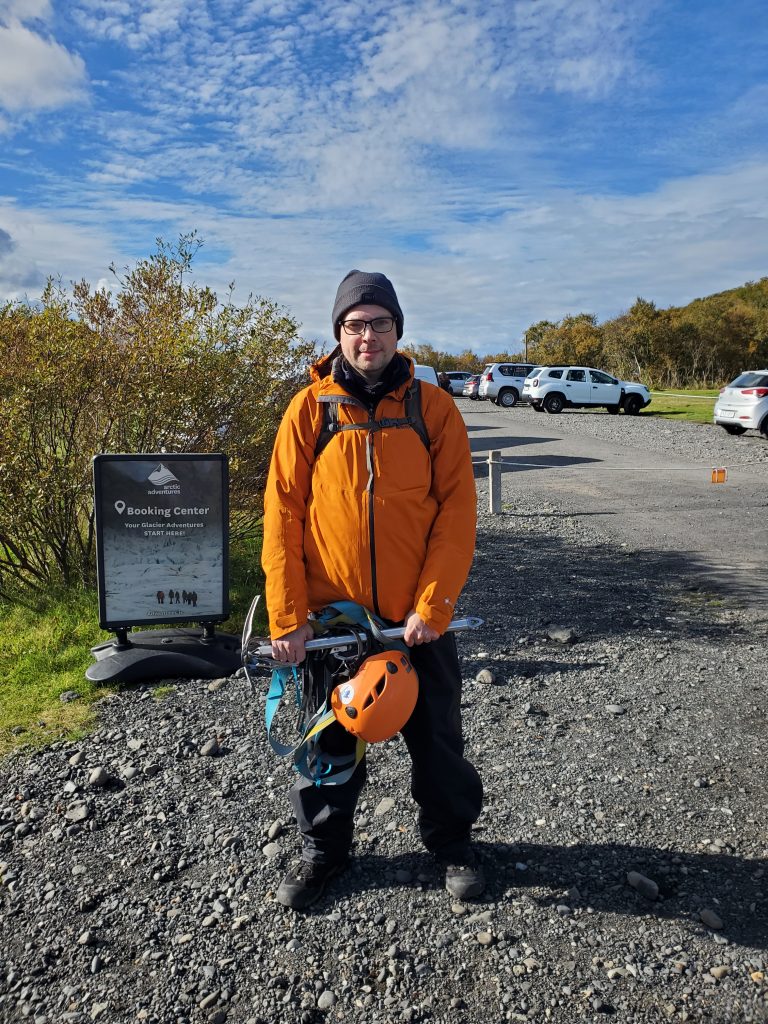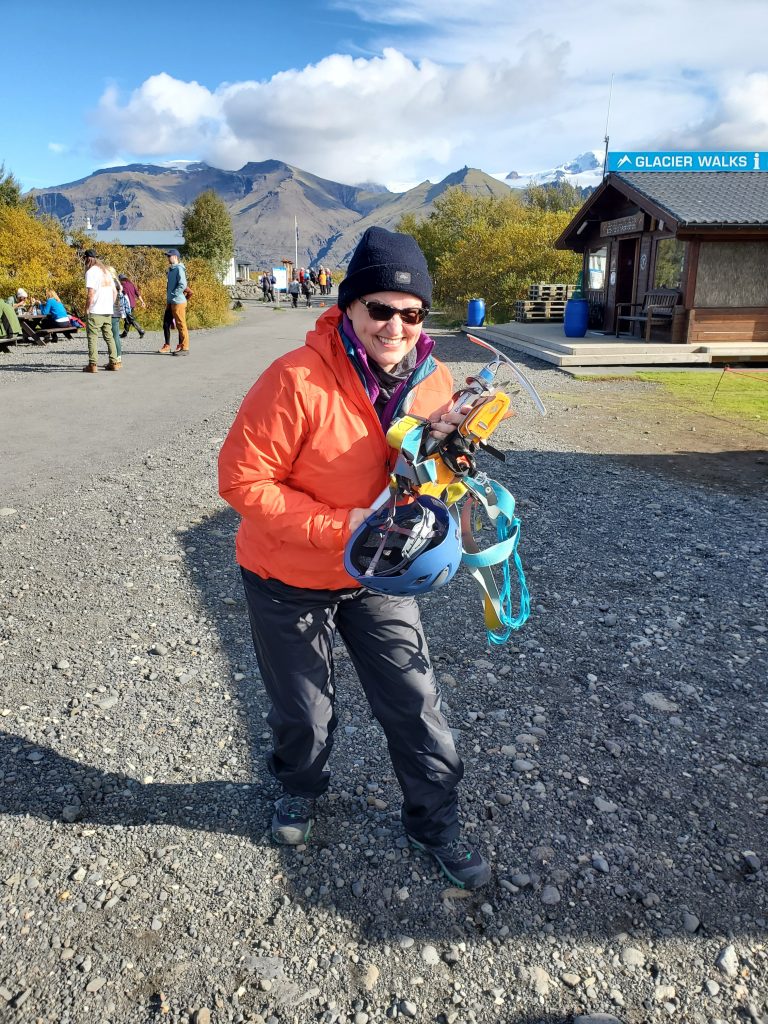 We bundled up for our glacier adventure, but the staff told us that the temperatures on the glacier were quite mild that day. After a quick trip to the camper van to ditch our down jackets, we joined the others on the bus.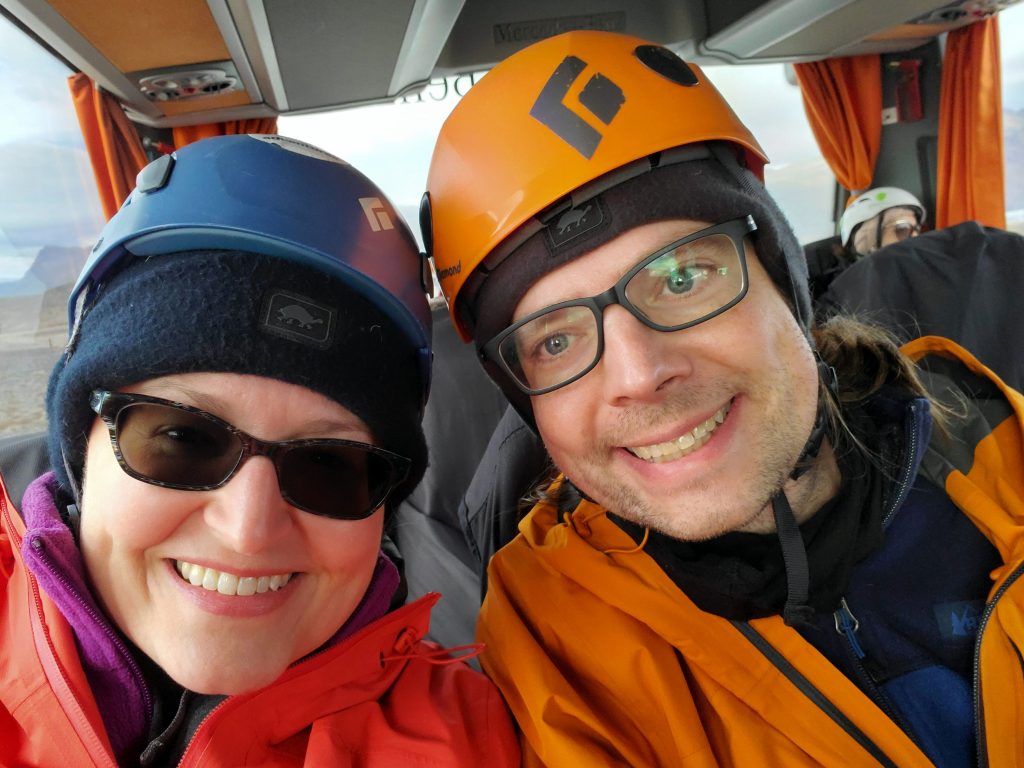 Getting to the glacier itself involved walking along a path from the parking lot and then hiking up a steep hill of gravel switchbacks.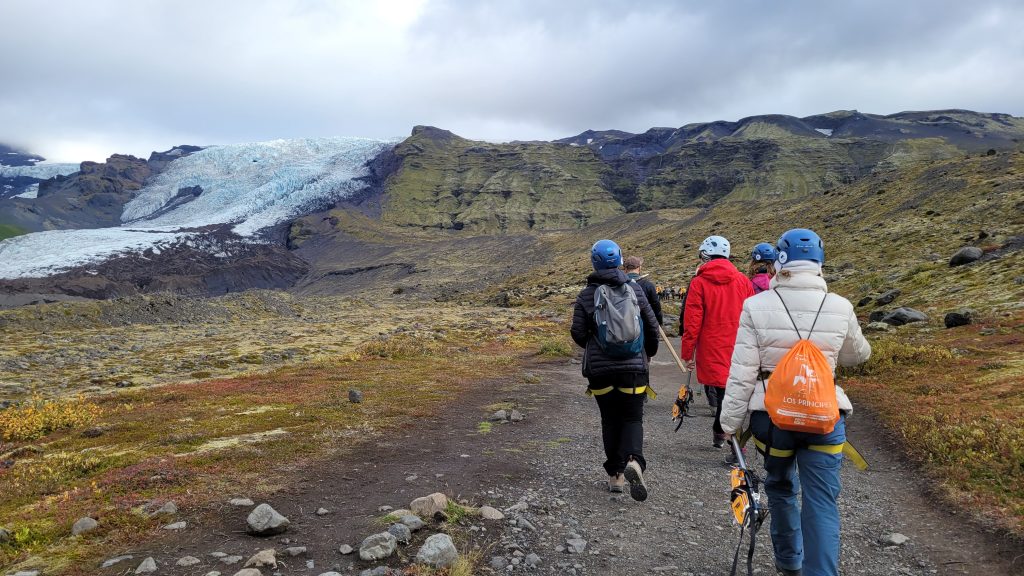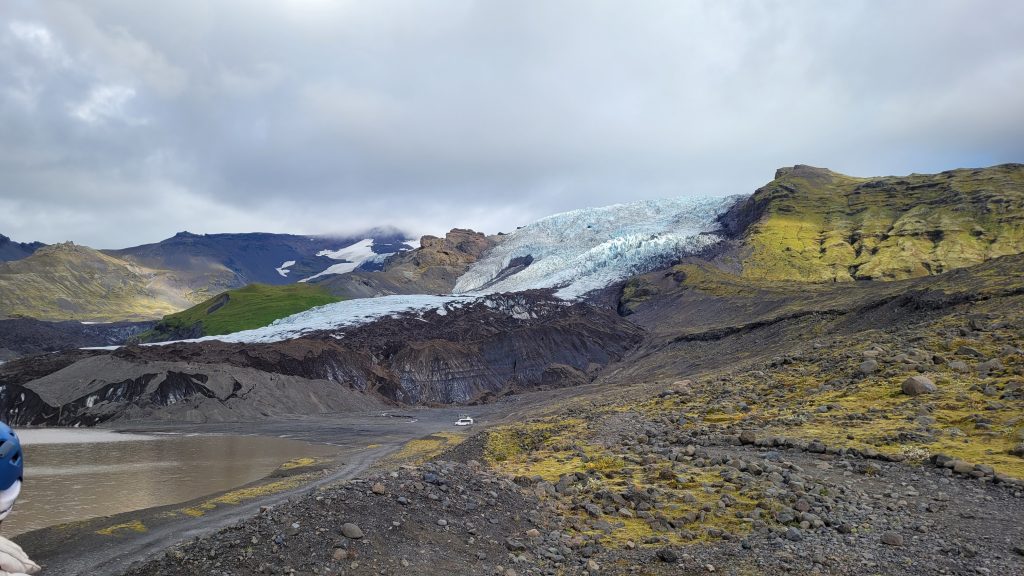 Our guide Laris (I have no clue if I spelled his name correctly) came from Latvia to live and work in Iceland. He stopped along our journey to tell us facts about the glacier. As we made our way toward a tongue of Vatnajökull called Falljökull, Laris explained that within a decade or so this tongue would no longer be here. The glacier melts through the spring, summer, and fall, but it is not rebuilding enough ice in the winter to offset the loss.
After hiking up the steep black gravel switchbacks at the base of the glacier, we gathered along a flat area and applied our crampons. Now we were getting ready to walk on an actual glacier! Our guide instructed us on how to hike up and down the glacier using our crampons and ice axes for stability.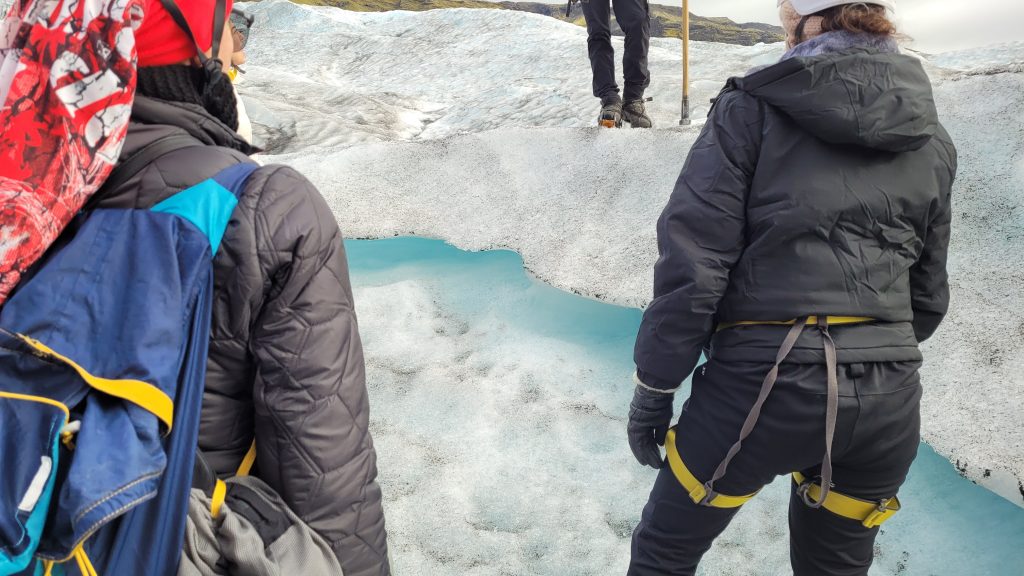 We could fill our water bottles from the little running streams of meltwater on top of the glacier. I tasted the water, and it was divine like all the water in Iceland. If you visit Iceland, don't buy bottled water. Iceland's water is fresh glacier water right from the tap.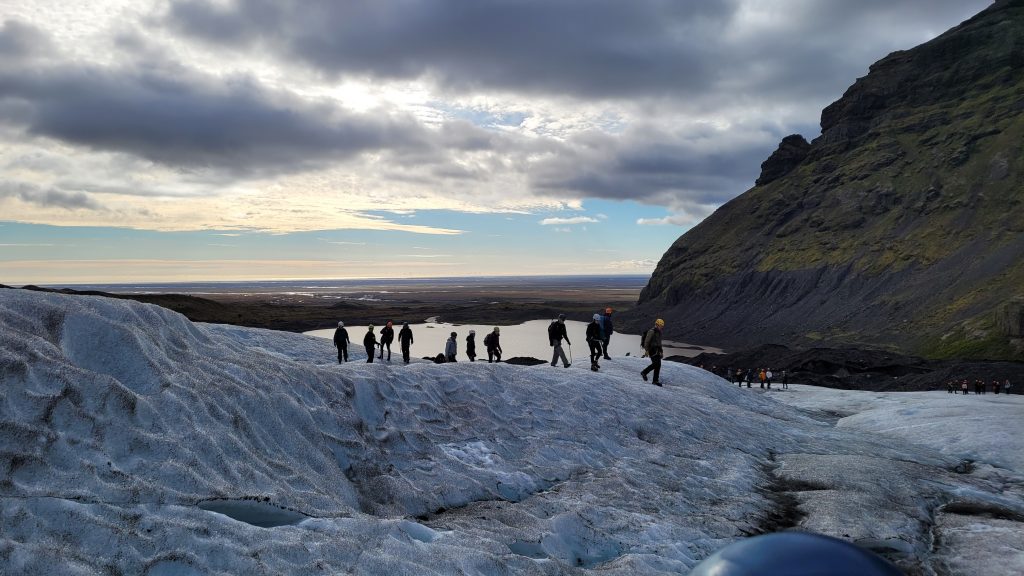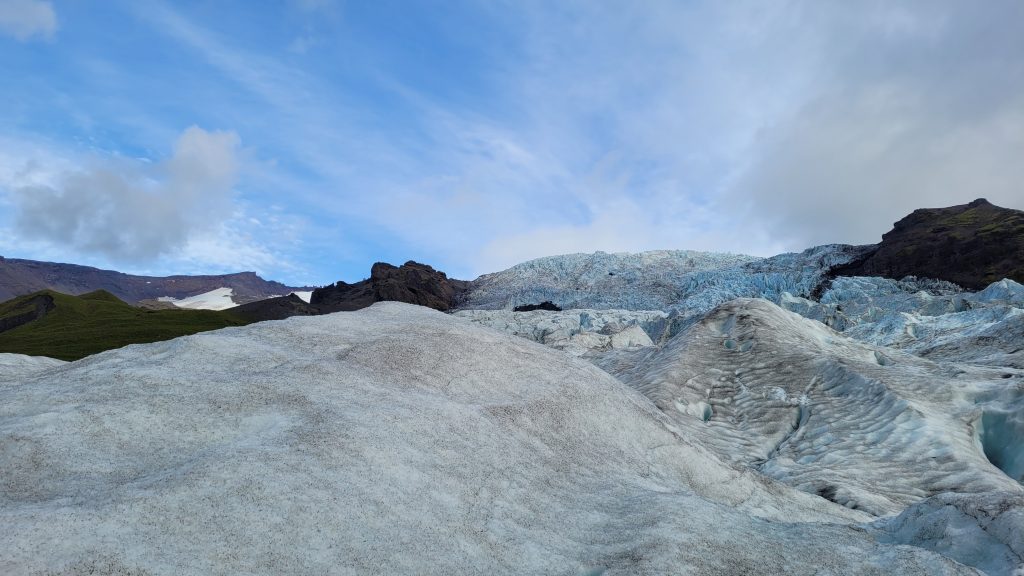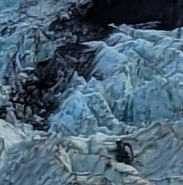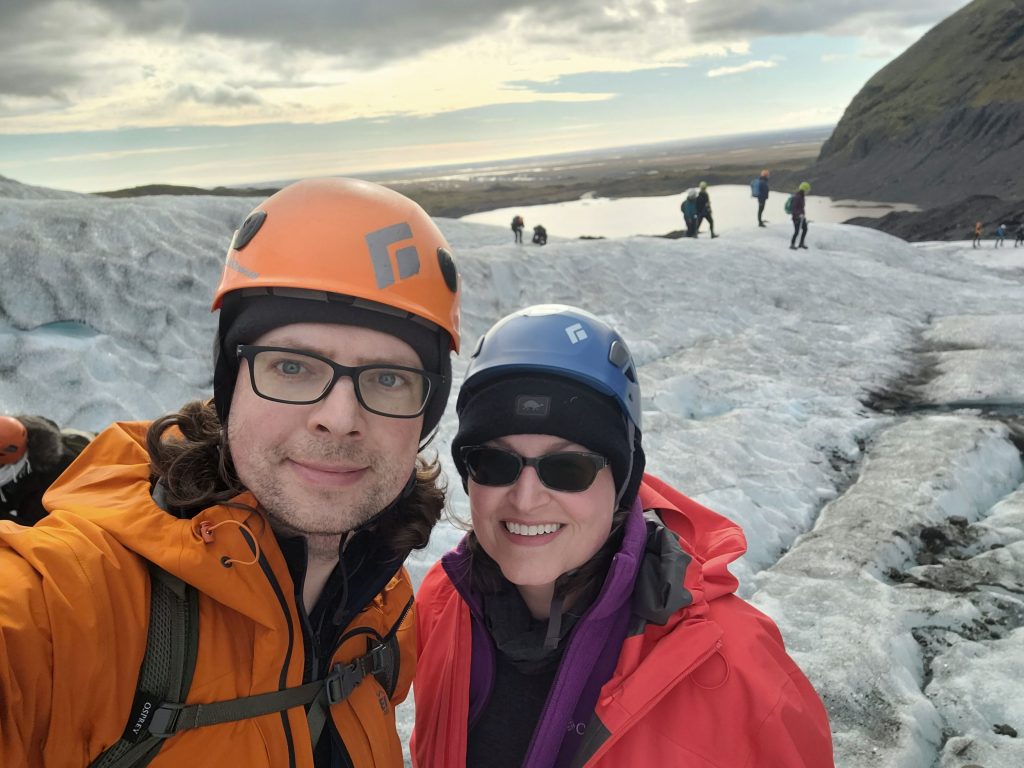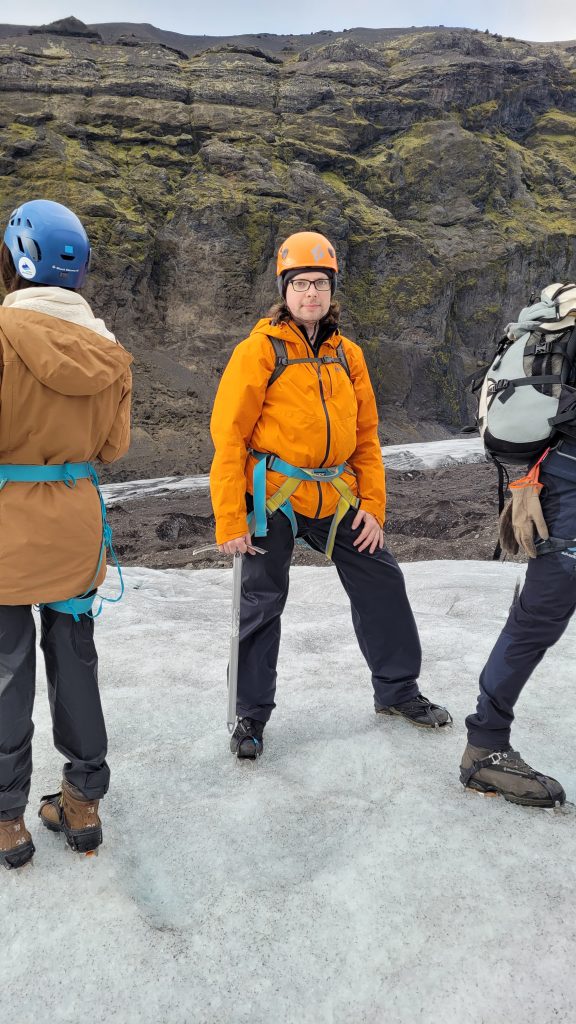 We noticed deep holes through the top of the glacier. Our guide explained that the glacier is always moving and changing, and as rocks roll down the glacier, they land in spots, heat up in the sun, and melt down through the ice. They create deep holes. Our guide warned us not to drop anything in the holes, but about fifteen minutes after he told us that, a man dropped his glasses in one of the holes. Our guide rolled up his sleeve and reached down through the icy water. He had his arm so far down into the hole that it reached his shoulder and he pivoted his body as he stretched for the glasses. He actually managed to retrieve them! The man was so grateful. As somebody who has worn glasses since middle school, I could feel the man's panic when he dropped his glasses.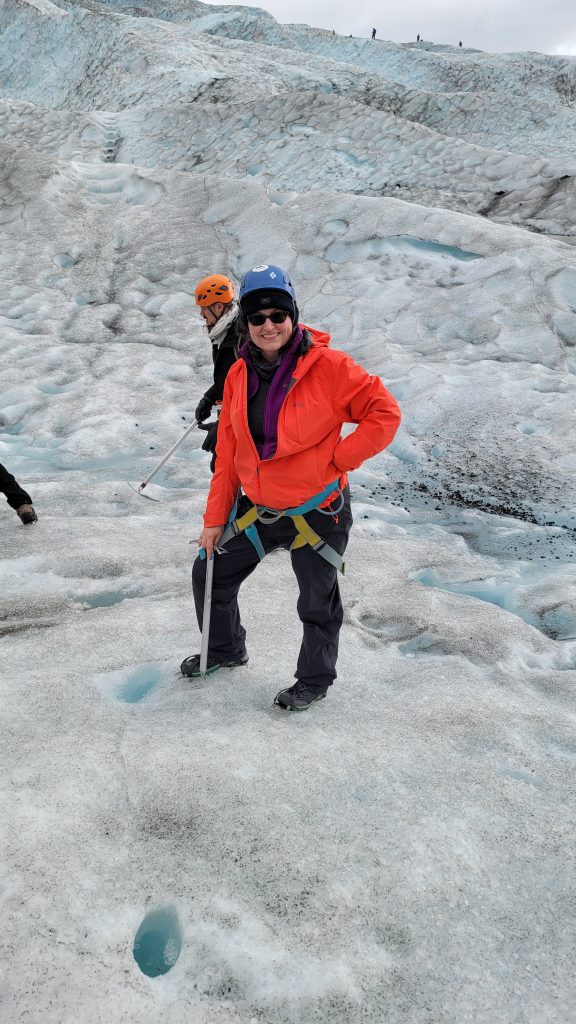 We also learned that glacier mice inhabit this area. They aren't rodents, but they are wads of moss that clump together on the glacier. They move around almost imperceptively over time. NPR had a story about them in 2022. I am bummed we didn't get a picture of one.
Our guide moved nimbly up the glacier like a goat. He hopped ahead and tested ice with his ice axe. Every day is a different adventure for him as the glacier changes. He adjusts where he takes his tours based on the safest path. Once he got as high as he could safely take us, he helped take pictures of all of us.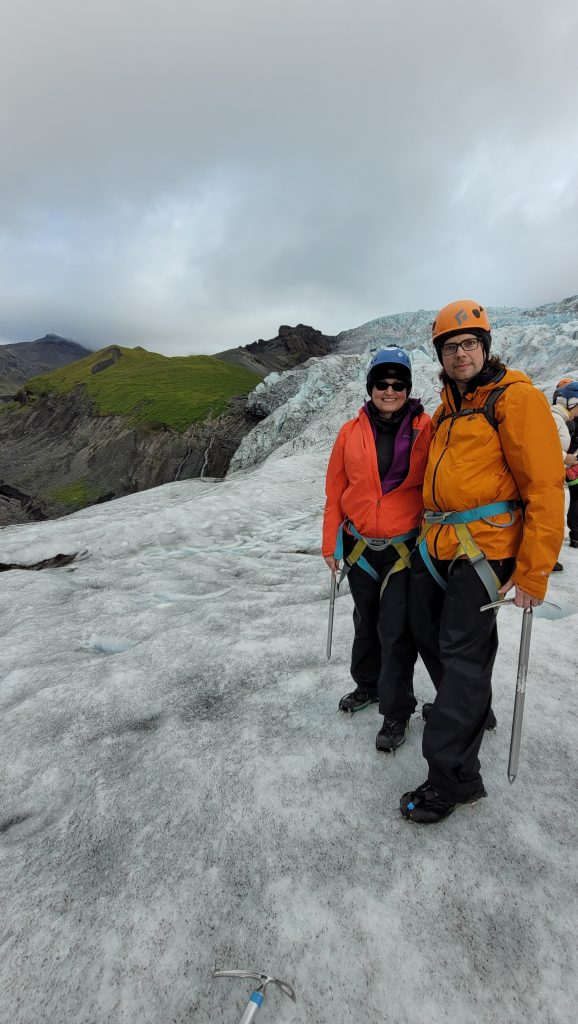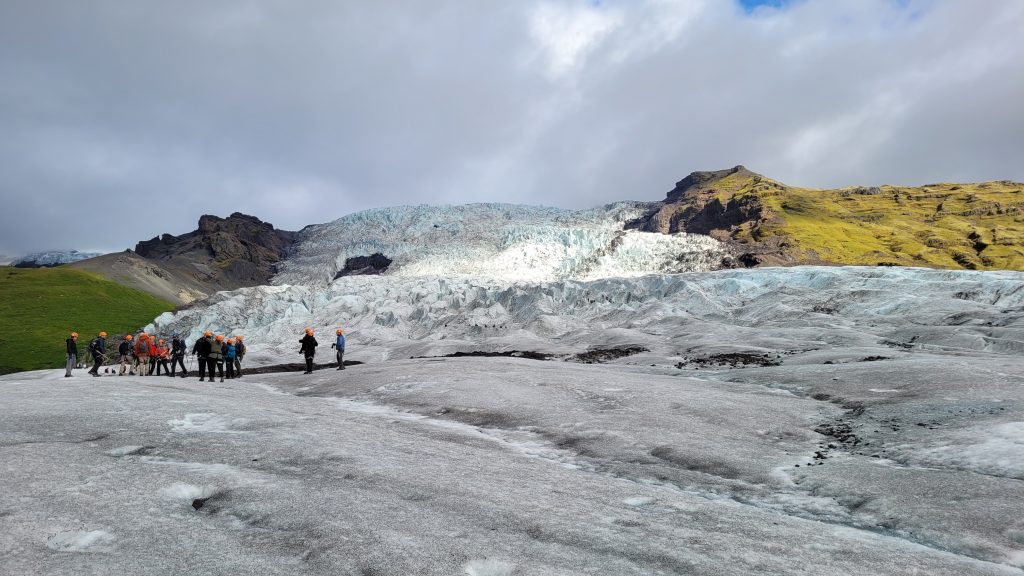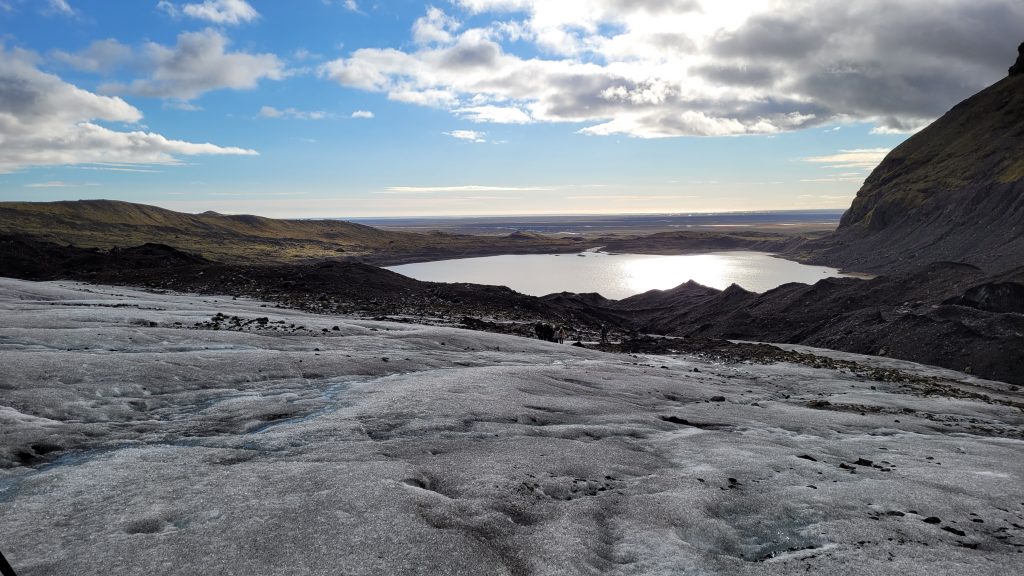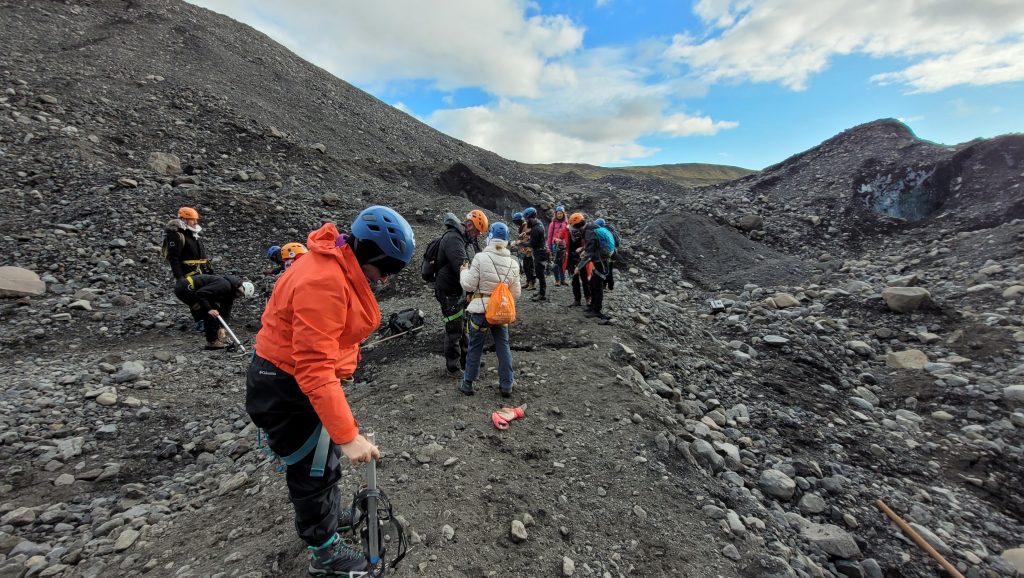 When I planned our trip to Iceland, I wanted a challenging adventure baked into our itinerary. I read about glacier hiking and decided that it was something I wanted to do even though it sounded a little bit daunting as I imagined slipping on the ice. Still, how many opportunities will I get to hike a glacier in a lifetime? I wasn't getting any younger. Altogether, the tour we took felt safe. Our guide did a fantastic job of providing instruction as needed without overwhelming us. We left with a massive sense of accomplishment and magical memories.
Jökulsárlón (Glacier Lagoon)
After our glacier hike, we hopped in the camper van and traveled to our next stop, Jökulsárlón, a glacier lagoon nearby. From the parking lot, we took a brief hike to the lagoon where we could see icebergs floating their way to sea. The sign for safety rules tells you about all the horrible things that would happen if you engage with the water in any capacity.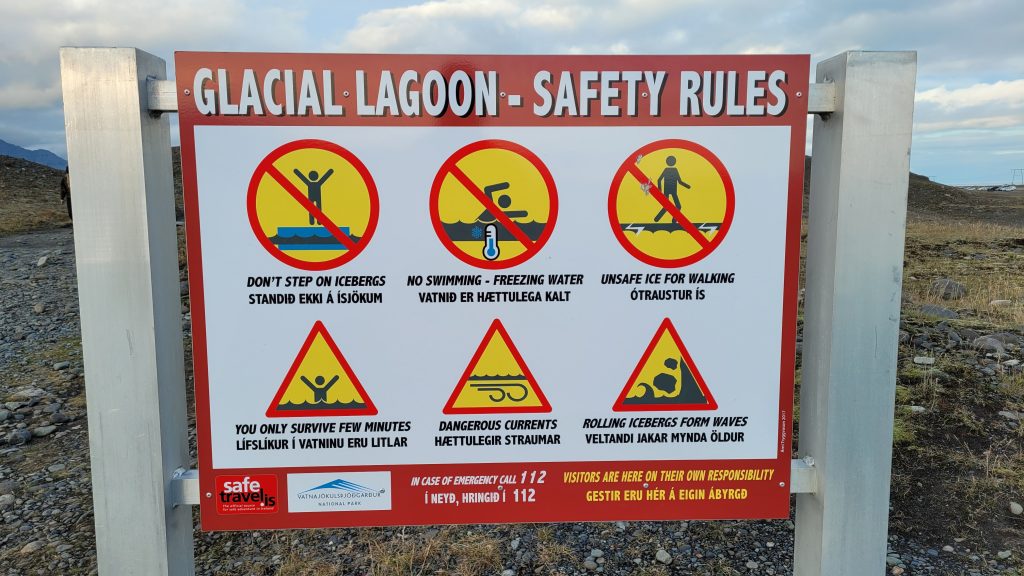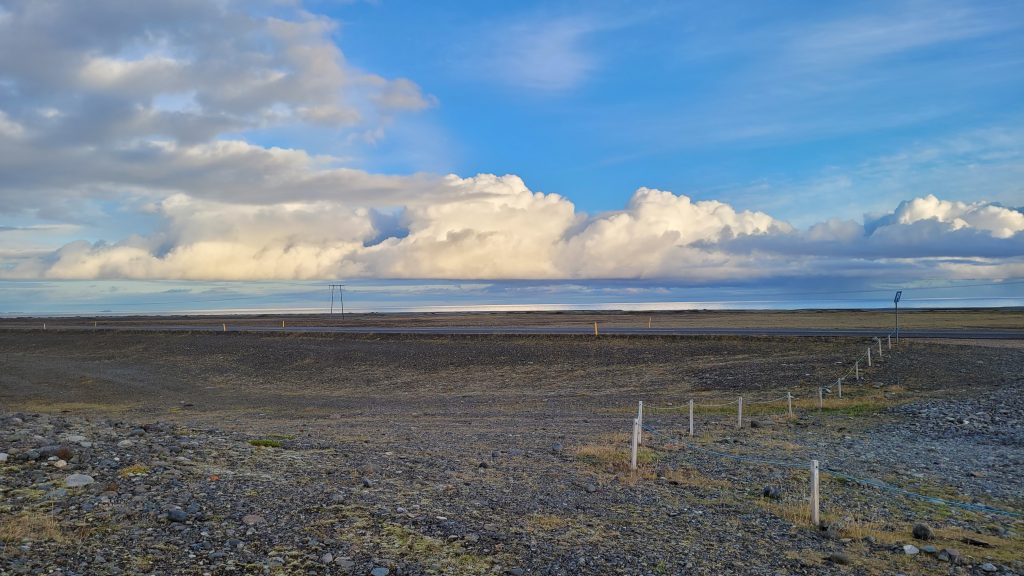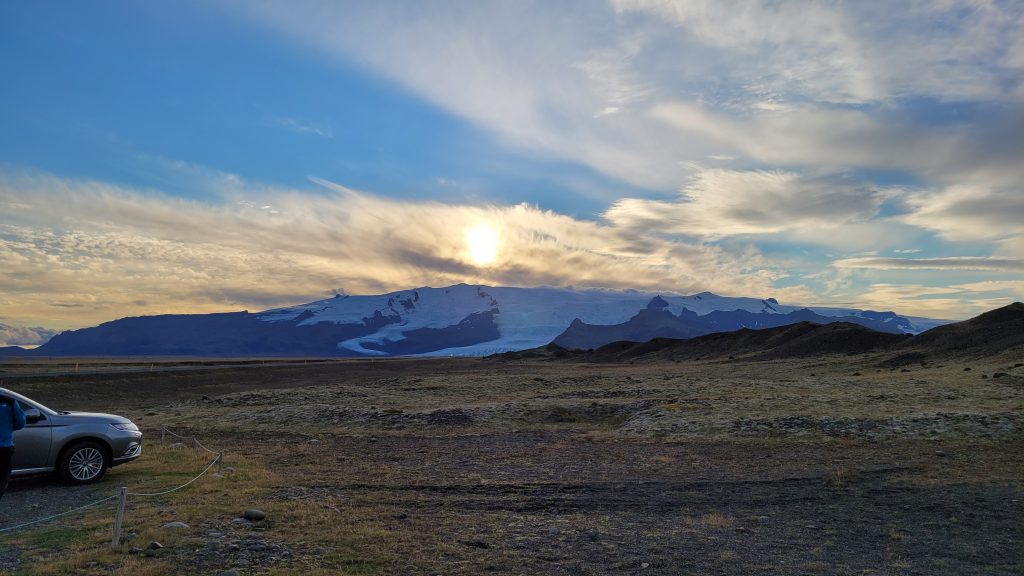 Once we got to the glacier lagoon, we hiked around one side of it. The icebergs floated by at a nice clip on their way to the ocean. We watched seals playing in the water and pulling themselves onto the icebergs.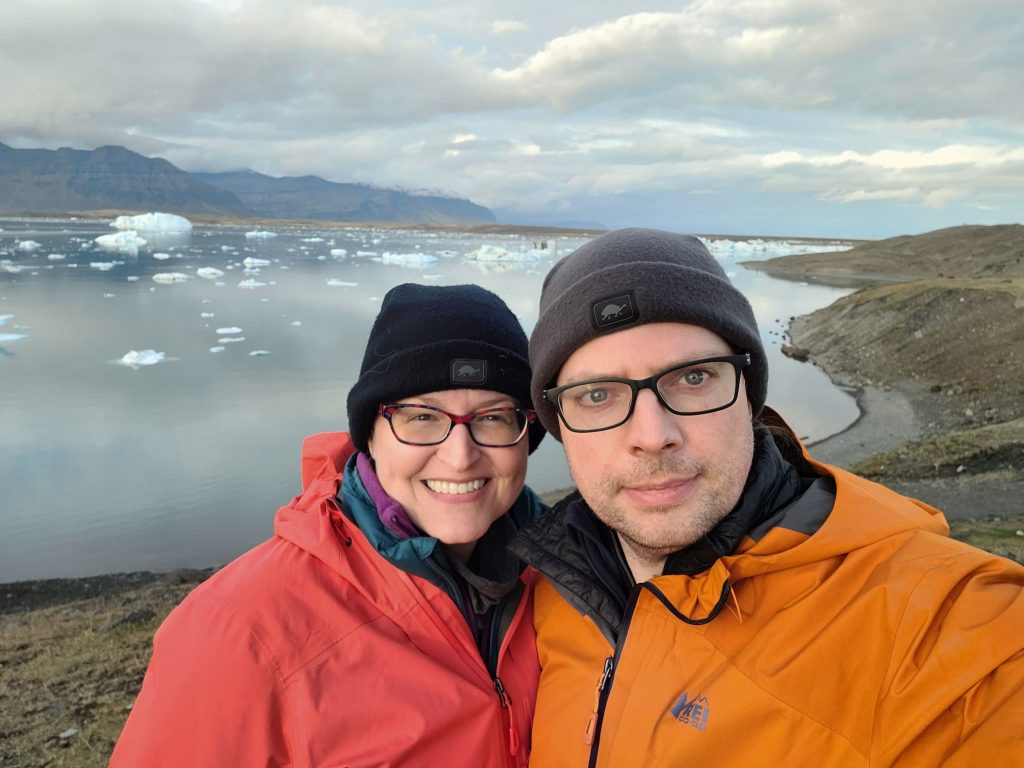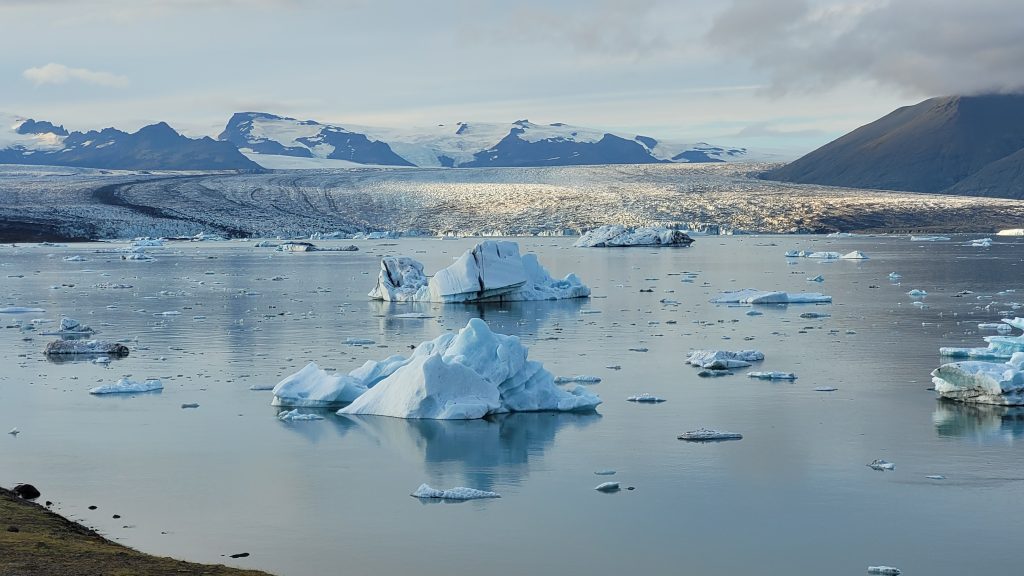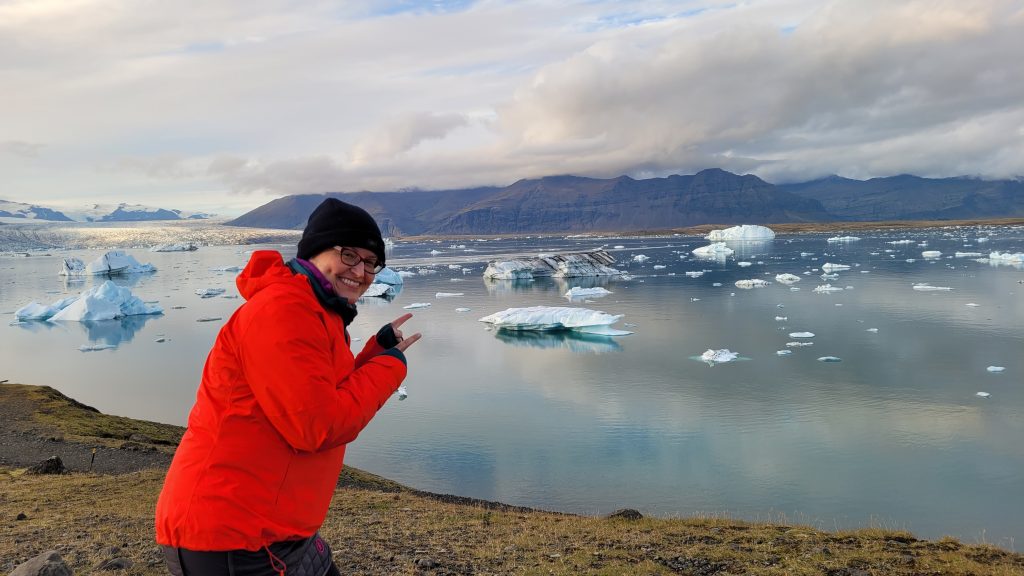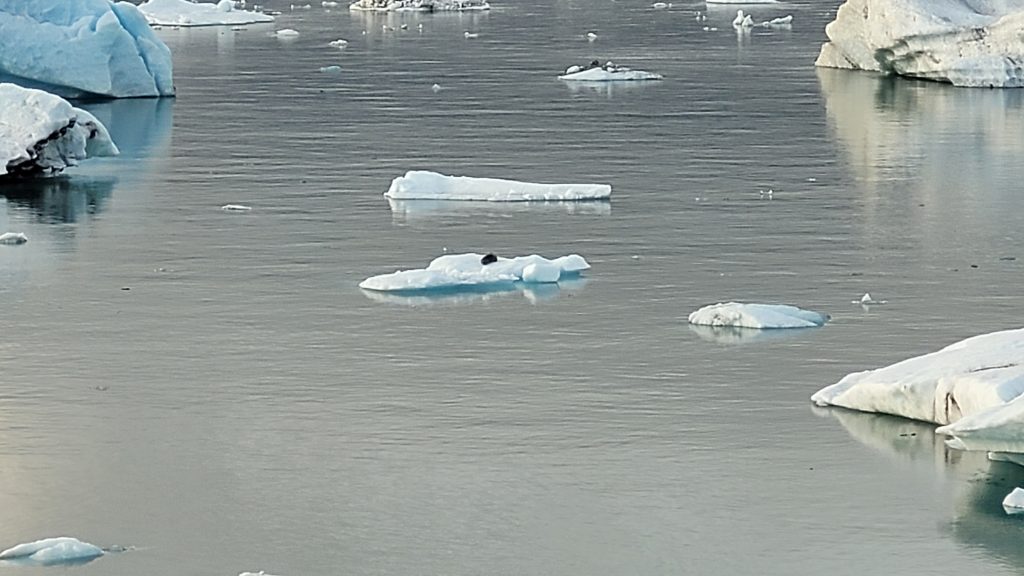 Diamond Beach
Across the road from Jökulsárlón is Diamond Beach. The black sand beach stands in contrast to all the broken icebergs that wash ashore. We watched icebergs drift from the lagoon only to be beaten by the waves and washed back to shore.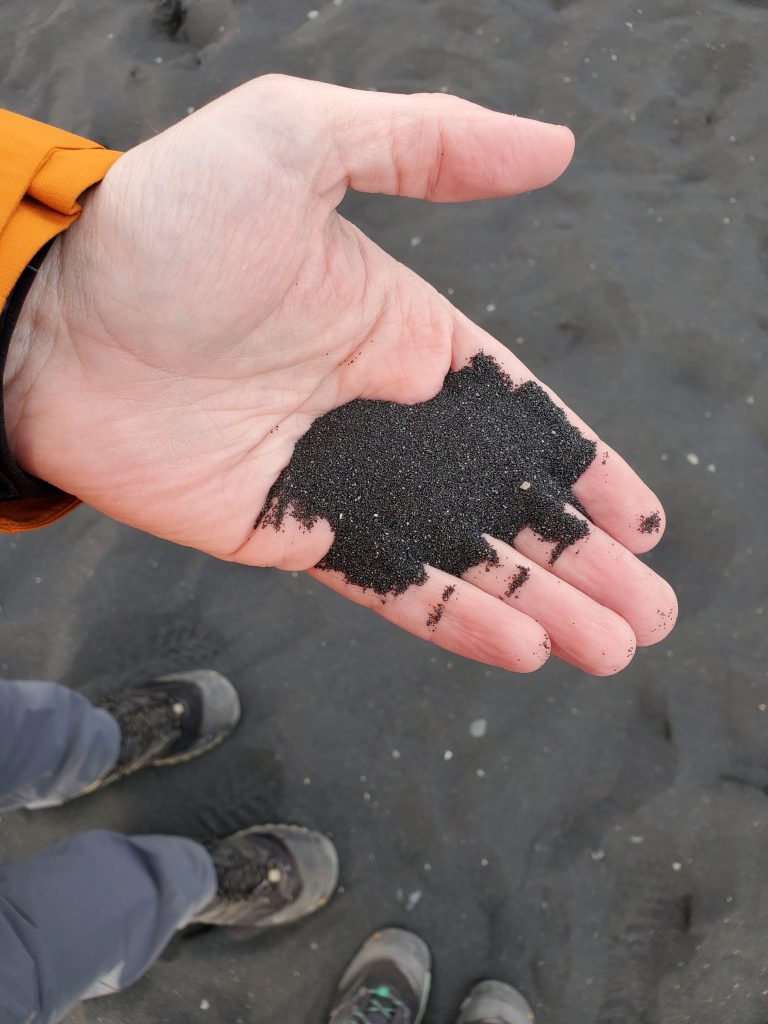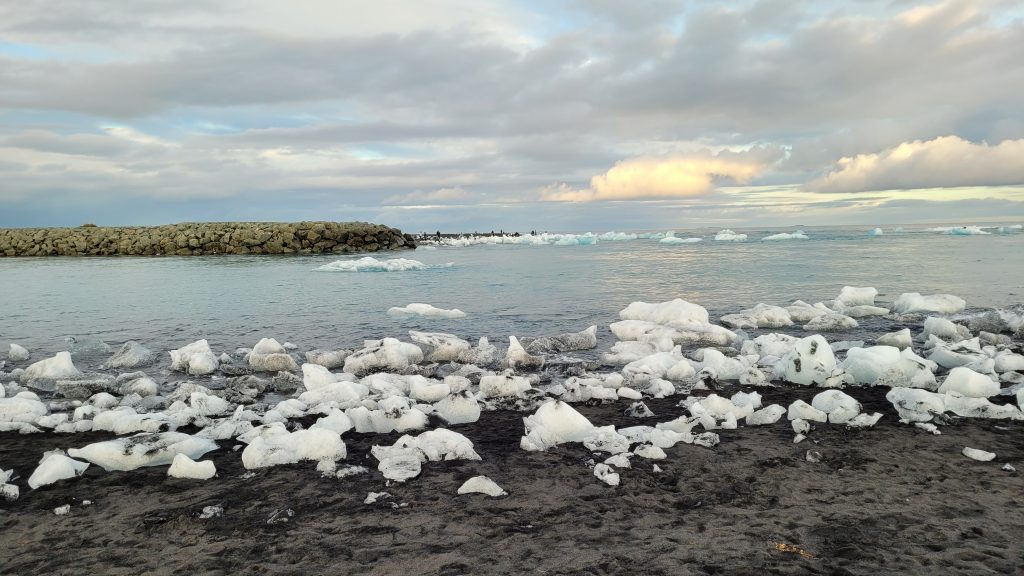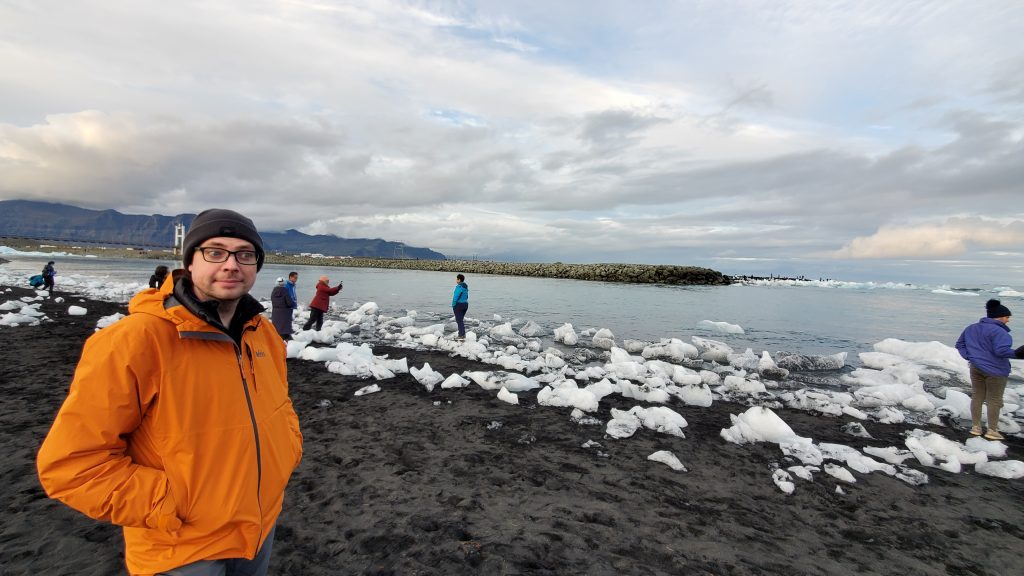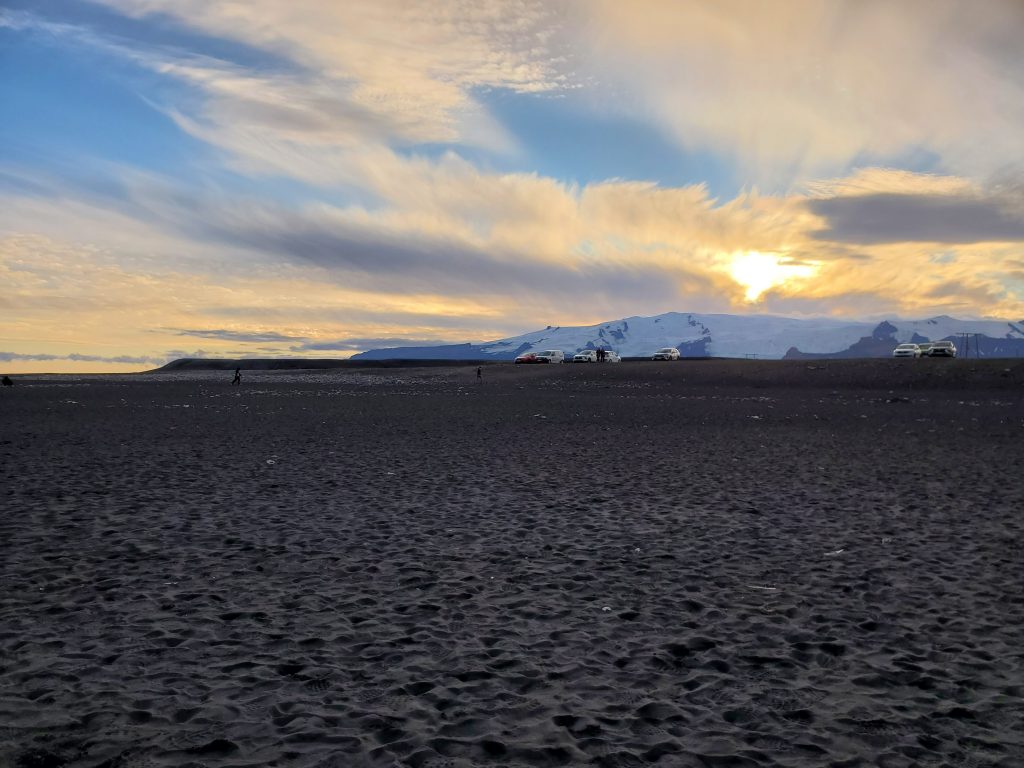 Höfn Camping Ground
After visiting Diamond Beach, we hopped on the Ring Road again to head to our final destination for the night, Höfn Camping Ground. Diamond Beach happened to be the last of the super popular destinations along the coast, and the traffic thinned as we drove to Höfn. Like many of the campgrounds, this one provided easy walking access to the town's amenities as well as a decently-stocked campground store. We decided to cook in our camper van that night as we had lots of tagliatelle nests and pasta sauce that we did not want to waste.
Before we could fix dinner, we needed to go shopping at the camp store first. Our camper van did not have sufficient lighting for dining, so we located a lantern at the store. Of course, it cost $60 USD and wasn't all that, but it served the purpose.
Graham set up the cooking station outside of the camper van and used a flashlight to see what he was doing. Inside the camper van, the lantern provided enough light to make our living space cozy and inviting.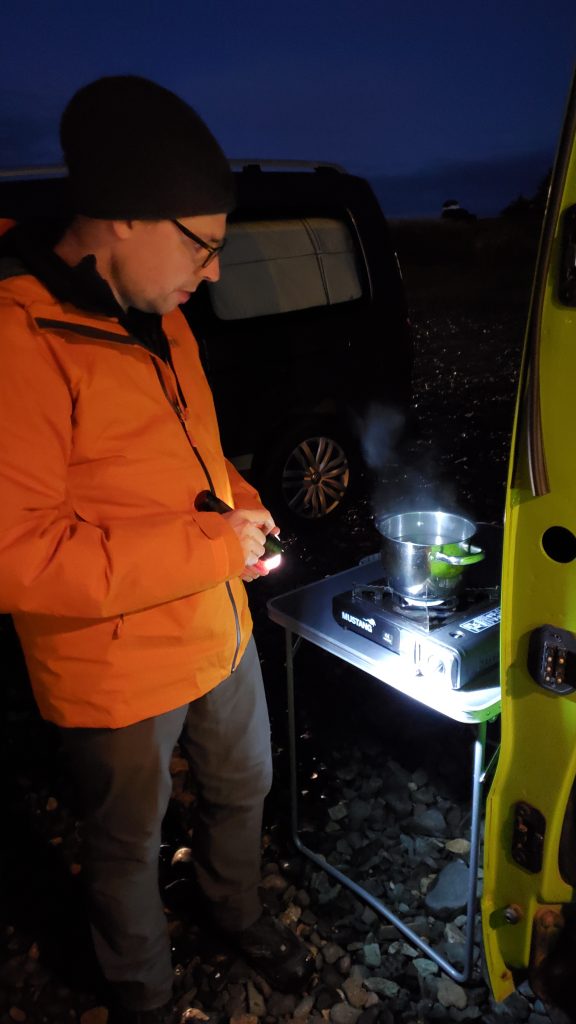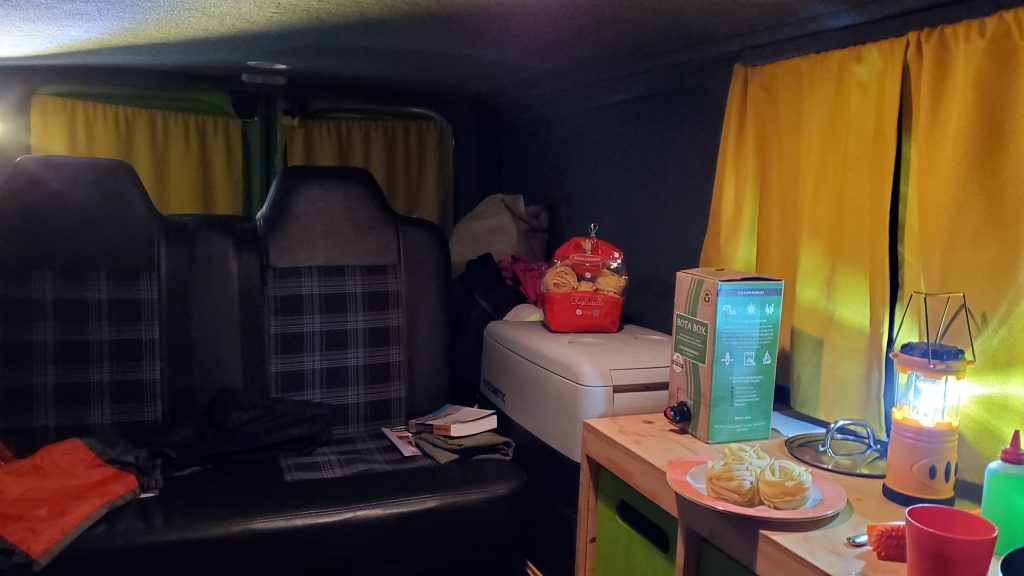 Northern Lights!
After dinner, Mother Nature put on a show for us! We chose September for our trip because it was just beyond the busy season and at the start of the Northern Lights season. So far on our trip, the nights had been too cloudy and the solar activity too weak to see Northern Lights. We used a Northern Lights tracking website daily to figure out our chances, and so far, we had been disappointed.
Graham went out to clean up the dishes after dinner and came back to tell me the good news. I could hear people oohing and aahing. I jumped out of the camper van and looked up to see what appeared to be waving white clouds in the night sky with faint hints of green. Graham pointed to his photos on his phone and explained that if you take a picture in night mode you can see the green better. We both shot several pictures. We didn't know it at the time, but this would be our one and only opportunity on this trip to see the Northern Lights, and we managed to see them by luck. I am forever grateful that we got to have this experience.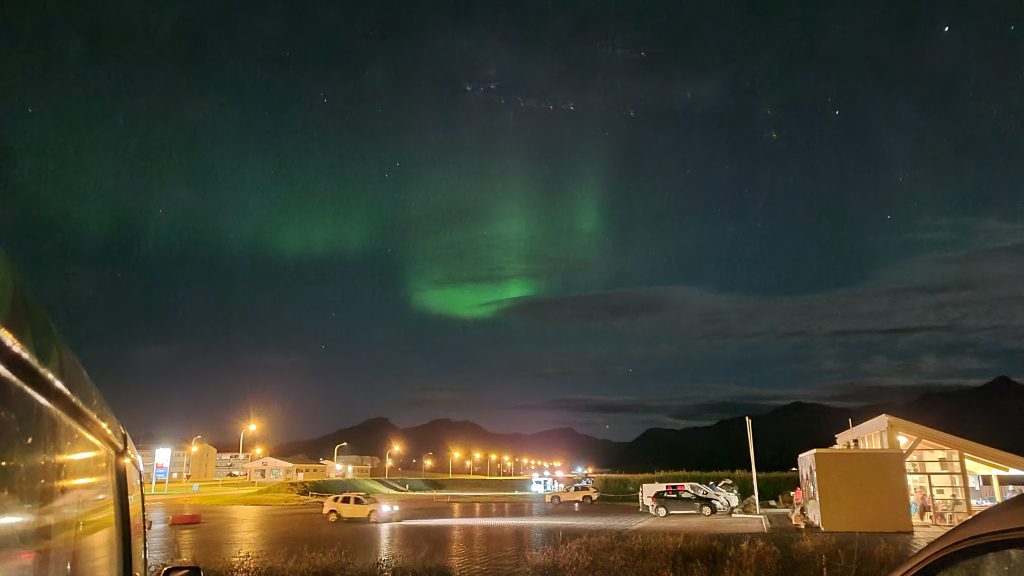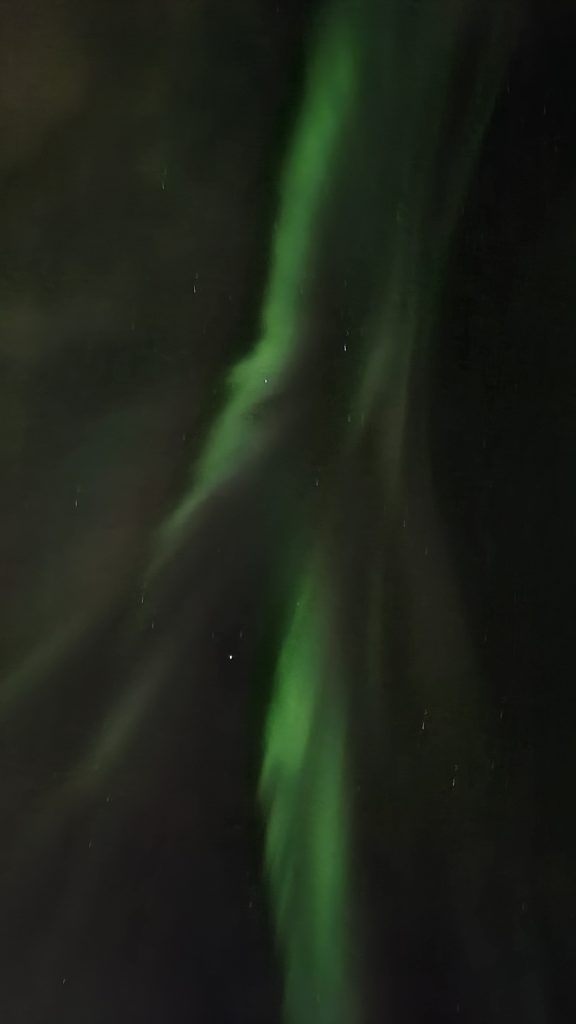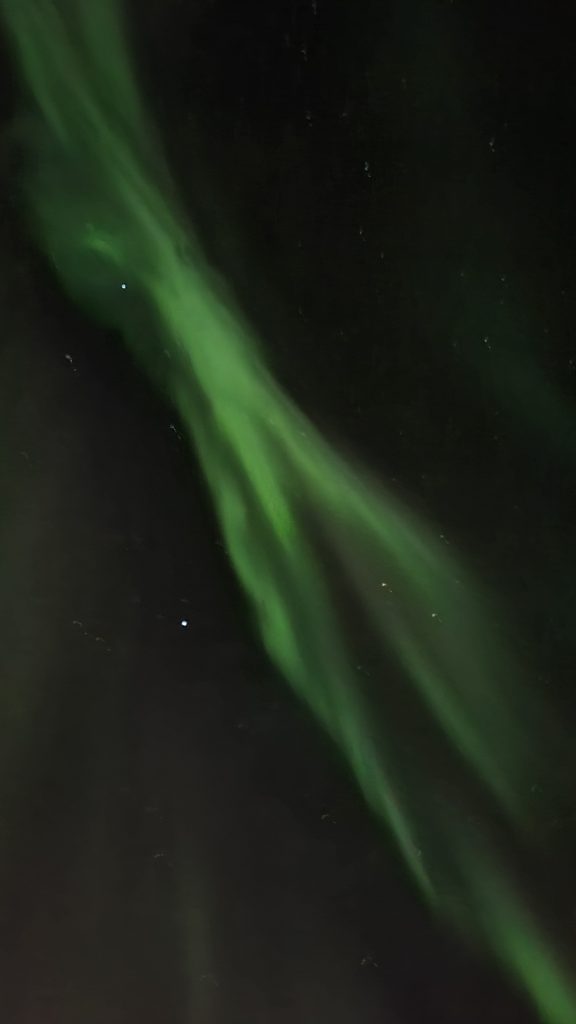 By the time I went to the campground's bathroom before settling down to sleep, I could no longer see the Northern Lights. I slept well that night and looked forward to our drive up the east coast the next day.